Atlanta Gutter Cleanings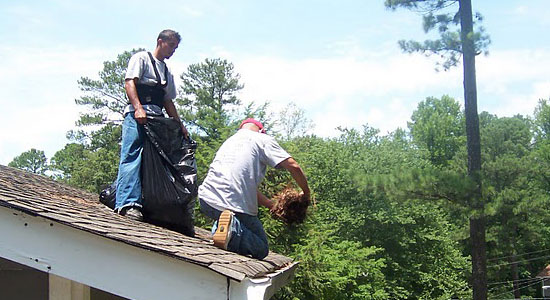 Garcia Gutters will be glad to come out and clean your gutters, unlike some of our competitors we always keep in mind where we came from and how we grew to where we are today, as our company slogan states there are no jobs too small or too large for us, we will gladly undertake the cleaning of your gutters and give your smaller job the same respect that we give to our largest of customers. Please feel free to call the number listed on the right side of this page or click on the Contact Us link and we will be glad to call and schedule a free estimate for your gutter cleaning job, in most cases if we can agree on a price we will be prepared to do the job while we are there. Customer satisfaction is our personal guarantee to you, without customers such as yourself Garcia Gutters would cease to exist!
Gutters should be cleaned at least twice a year.
If you skipped cleaning your gutters last fall or last spring or perhaps even longer we'll make sure that you have a fresh start with a complete inspection and a thorough cleaning.
A complete gutter cleaning & inspection will help prevent:
wet basements
stained ceilings
damaged siding and paint
rotted fascia boards
Why have your gutters cleaned?
When gutters have debris piled up above the flashing or shingle line, the debris can hold moisture on the fascia boards - the horizontal boards at the end of the roof overhang.
The moisture can also affect the roof sheathing and framing beyond the fascia. This moisture can cause dry rot, ice dams and a variety of other problems.